Dear friends in Christ,
In 2015, an idea was born. It was an idea that brought together people from across the world's newest nation, South Sudan, and across the ELCA. It became more than just an idea as prayers were lifted, funds were raised, shovels broke ground and bricks were laid!
The Reconciliation Lutheran Church Community Center and Primary Health Care Clinic opened its doors in November of 2017 as thousands gathered to worship and celebrate. Because of the support of people like you, global ministry projects like this vital center in Juba, South Sudan, are made possible through ELCA Global Church Sponsorship!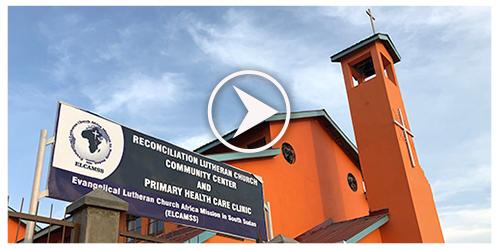 As a subscriber to Global Links, I want you to be one of the first to view our newest video, "Hope Rising in Juba, South Sudan."
We join with the people of South Sudan in this time of joy and thanksgiving.
We give thanks to all who have supported this ministry to date and ask for your continue prayers and support. Your gift today will help continue God's work of reconciliation embodied in this ministry of hope.
Together, we can continue to share the love of Christ in new and exciting ways!
With gratitude,

Andrew G. Steele
Director of ELCA Global Church Sponsorship