'Liberated by grace, encouraged by sisterhood'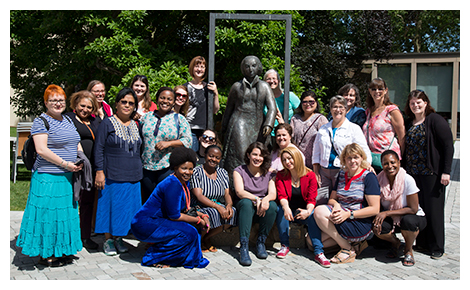 As part of the ELCA International Women Leaders initiative, 22 women from nine nations came together this July in Wittenberg, Germany, to study and reflect on women in the Reformation. Read about their experience learning from the past and each other in October's edition of Living Lutheran.
'Ni ubuntu…it is free of charge.'
Young Adults in Global Mission participant Hannah Sackett, serving in Rwanda, shares thoughts and videos of her first few weeks of service in a blog post. Read about her day-to-day experiences and deeper reflections on grace and hospitality in a new home.
New Global Service opportunities – apply today!
Ever thought about serving abroad? ELCA global personnel are invited by companion churches or related organizations in over 40 countries to serve as teachers, health care professionals, pastors and more in assignments that range from a few months to several years. Check out these ELCA Global Service positions open in 2018 and apply online! If you don't see a good match or a strong possibility now, check back later — and prepare to embark on an exciting, faith-deepening journey.
Growing the church in Senegal and The Gambia
From education to health care to agriculture initiatives, the emerging churches in Senegal and The Gambia – two neighboring countries in West Africa – are listening to the needs of their communities and are spreading the good news of God's love through word and deed. The ELCA has been invited to help these churches take their outreach to the next level and touch even more communities than they do now by raising $100,000 in support of schools and vital church infrastructure. Watch this video to learn more about this amazing ministry and donate now!
Where have all our young adults gone?
It's a question heard frequently in congregations today. In his recent monthly column for the Northwestern Minnesota Synod, Bishop Larry Wohlrabe addresses this question by sharing the stories of ELCA young adults involved in "the best kept secret of our ELCA" – the Young Adults in Global Mission program. Read the article!
Diakonia in the Holy Land
Congratulations to ELCA missionary Adrainne Gray who was officially consecrated this past month as a deacon! Read her reflections on the call to diakonia and view stunning photos of the service. Deaconess Adrainne continues to serve as communications director with the Evangelical Lutheran Church in Jordan and the Holy Land, which has long been in accompaniment with the ELCA.
Interested in having a guest preacher or presenter?
Is your congregation celebrating the Global Church this year? Preachers, presenters and recent YAGM alumni from the ELCA churchwide organization are available to visit your congregation and share stories from the Global Church. Please email visit requests to globalchurch@elca.org.
Give today!
Make an online gift to God's work around the world. Thank you!
Share Global Links
Stay connected with Global Links by sharing resources and content with your congregation. Subscribe to Global Links. Download the latest edition of Global Links.