Greetings,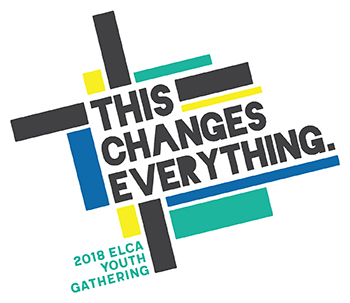 It is a busy summer for the ELCA Worship staff. In a few days we will join 30,000 high school youth and their adult leaders at the ELCA Youth Gathering in Houston. As part of Interactive Learning, we will have a large booth exploring, with Gathering participants, the variety of ways that we participate in worship leadership.
Under the title "Drawn In! Moving Out! Worship Brings Us Together," participants may show off their skills in an Acolyte Olympiad or try on some of the vestments worn in worship in the Vestment Selfie Booth. In partnership with the Association of Lutheran Church Musicians and Lutheran Summer Music, youth may explore, with professional church musicians, why and how we lead music in worship. A variety of musical instruments also will be present in our space so they might try out a flute, add some percussion, demonstrate their skills on the piano or organ, or sing along! We will explore language used in worship as we craft "Prayers of Intercession" and consider ways "the Dismissal" sends us from worship to continue our participation in God's mission in the world.
If you're not attending the Gathering yourself, be sure to invite your congregation's group to stop by "Drawn In! Moving Out!" and explore the variety of ways we lead and participate in worship in the ELCA.
In Christ's peace,
Deacon John E. Weit
Program Director for Music
---
Recently featured on the ELCA Worship Blog:
The Push and Pull of Father's Day: A Reflection on Being Church Together (June 1)
Worship at Fort Leonard Wood (May 21)
---
 Share your event
We enjoy hearing from you! It is a gift for those of us here at Worship to hear about the breadth and depth of worship practices around this church. If your particular context has a story, practice or resource to share with our staff, please send it to worship@elca.org.
Although we cannot share everything we receive, we may contact you for further information.
---
Hearts • Hands • Voices
Valparaiso University, Valparaiso, Ind.
July 23-26
In just about one month, church musicians from around the country will gather on the campus of Valparaiso University for a time of building up the various practical skills related to leading music in worship. Registration closes soon, but it is not too late to join colleagues from Monday, July 23, to Thursday, July 26. Visit ALCM.org for a complete list of activities, learning sessions, registration and housing information.
Other Hearts • Hands • Voices events are occurring around the church in 2018 sponsored by the Association of Lutheran Church Musicians (ALCM). These workshops are for musicians, as well as pastors and other worship leaders, who serve in congregations of all sizes and contexts, each with their own challenges and opportunities. Registration is available on the ALCM website. The next two months include several events:
June 23 – Fremont, Neb., and Dubuque, Iowa
June 24 – Minot, N.D.
June 29-30 – Columbus, Ohio
June 30 – Hibbing, Minn.
July 14 – Des Moines, Iowa
July 19-20 – Richland Hills, Texas
July 21 – Sioux Falls, S.D.
July 23-26 – Valparaiso, Ind.
July 27-28 – Minneapolis, Minn.
July 28 – Knoxville, Tenn.
Aug. 1 – Park Ridge, Ill.
Aug. 25 – Vero Beach, Fla.
A full list, including an additional 25 events through the remainder of 2018, is on the ALCM website.
---
The Worship staff regularly receives similar inquiries on worship-related topics from across the church via email and phone.
Congregations often wonder when is the best time to make announcements in worship. While there is not a "one-size-fits-all" to this question, this FAQ response could help you consider what might work best; perhaps it's what you've always done or a new approach for the summer months. In the Worship FAQ, see "When do we make announcements in worship?"
The answers provided in the ELCA Worship FAQ are not the final word. They are useful guides that may be considered in respect to local context with pastoral sensitivity. Remember that these guides can be reproduced for a worship committee or congregational use, provided the web address is cited on the copies.
If you would like additional information or do not find the question that you are seeking an answer to, we invite you to contact the Worship staff at worship@elca.org.
---
Sundays and Seasons, Year C 2019

"Sundays and Seasons" supports comprehensive week-by-week planning with content and ideas for liturgy and music, preaching and visuals, shaped by the Revised Common Lectionary, the church year and the assembly gathered around word and sacrament.
Additionally, sundaysandseasons.com provides you a rich and reliable resource for worship planning with electronic liturgical resources to aid you in creating worship support materials like a bulletin or set of projection slides. It follows the three-year lectionary cycle and provides everything you need to support your worship ministry in one convenient location.
Order today at Augsburg Fortress or call 800-328-4648.
---
Find new music for fall, Advent and Christmas from Augsburg Fortress!
Our 2018 fall, Advent and Christmas music is now available! View samples, listen to music and order for your choir at augsburgfortress.org.
It's not too late to register for Augsburg music clinics!
Augsburg Fortress looks forward to seeing you at one of our six FREE summer music clinics! Read through new seasonal music, attend workshops led by clinicians Wayne L. Wold and Zebulon Highben, participate in a hymn festival, attend handbell workshops and more. Workshops include: 500 Years of Singing-Exploring the Lutheran and Reformed Choral Traditions, Treasures from the File Cabinet, and Priceless Treasures: Hymns and Songs in Parish Life.
Go to augsburgfortress.org/music-events or the Augsburg Fortress Facebook page to register!
July 20-21: Columbia, S.C.
July 23-24: Twin Cities, Minn.
July 27-28: Seattle, Wash.
July 30-31: Chicago, Ill.
Aug. 2-3: Philadelphia, Pa.
Aug. 6-7: Columbus, Ohio
---
---
Music that Makes Community
Music that Makes Community grew out of the liturgical work being done at St. Gregory of Nyssa Episcopal Church, founded by the Rev. Donald Schell and the Rev. Rick Fabian in San Francisco. During the summer of 2005, they realized a desire to create music for worship that would leave congregants free to move around, use their hands and be fully present to one another in worship. They started collecting and composing music and working on ways to use it in worship.
Events held throughout the U.S. and Canada bring musicians and worship leaders together to help people connect and learn through singing by developing and teaching a practice of paperless song leading grounded in a theology of welcome and generosity for the benefit of musicians, clergy, congregants, students and lay leaders who want to use the practice to enrich and enliven their worship and community life. Go to the events calendar for other local offerings throughout the country.
Upcoming events:
July 14: One-day workshop at Eden Theological Seminary, St. Louis, Mo.
July 26-27: Summer intensive at The United Theological Seminary of the Twin Cities, New Brighton, Minn.
---
Adult Catechumenate training offered
Portland, Ore., Oct. 5-6
Ottawa, Ontario, Oct. 25-28

Are you looking for a way to deepen the faith lives of those coming to your church and enliven your congregation? If so, consider taking a team to an ecumenical training in the adult catechumenate, a process of spiritual formation for people exploring Christianity or seeking to renew their faith.
Based on ancient practices, the catechumenate goes beyond the traditional study of "what Christians believe" to asking questions, telling our stories and discovering God's story in our story. Through worship, prayer, small groups, biblical reflection, sponsors and ministry in daily life, it creates a journey to baptismal living that changes lives and makes disciples.
At a training event you explore the stages of the catechumenate process and experience its elements and worship rites in both large group and small group settings. These events are recommended for teams of two or more from your congregation or organization (clergy, musicians, lay leaders, and worship and adult faith formation staff) and will provide you with the background and resources you need to adapt and begin a catechumenal process. Registration will be available July 1. Please visit Journey to Baptism for the latest information and a link to the registration when it becomes available. These training events are sponsored by Journey to Baptismal Living: The North American Association for the Catechumenate. For questions, contact info@journeytobaptism.org.
For more information about the catechumenate, visit journeytobaptism.org.
---
Savings Images: The Presence of the Bible in Christian Liturgy
Gordon W. Lathrop
The Protestant Reformation emphasized the centrality of Scripture to Christian life; the 20th-century liturgical movement emphasized the Bible's place at the heart of liturgy. But we have not yet explored the place of the Bible as the subject of critical exegesis in contemporary liturgy, argues Gordon W. Lathrop.
Dr. Lathrop seeks to remedy that lack because it is critical historical scholarship that has shown us the grounding of the text in the life of the assembly and the role of intertextuality in its creation. "Saving" and revitalizing images of the past are at the heart of Scripture and are the work of the gathered community. Lathrop finds patterns in biblical narratives that suggest revising our models of the "shape" of liturgy (after Dix and Schmemann) and our understanding of baptism, preaching, eucharist and congregational prayer. He lifts up the visual imagery at the Dura Europos house church and elsewhere as a corrective to the super-sessionist impulse in much Christian typology. He identifies the liturgical imperative as seriousness about the present rather than an effort to dwell in an imagined past. "Saving Images" is a call for a new, reconceived biblical-liturgical movement that takes seriously both biblical scholarship and the mystery at the heart of worship.
Available through Augsburg Fortress and Amazon (hard copy and kindle versions).
---
Connecting with ELCA Worship

The ELCA Worship Blog and Facebook page are your places to connect with what's going on in worship across our church.
The Facebook page shares prayers, events, updates, blog posts and "liturgy grams," a short, weekly infographic on the definitions and practices of things we see in worship every week.
The Worship Blog is regularly updated with more in-depth information and stories. Follow it for updates from the worship office and pictures, resources, reflections and happenings from pastors, musicians and worshipers across the church.
We'd love to include your voice too! If you have a story of how worship is meaningful and engaging in your context or want to share something your congregation has particularly loved, send it to worship@elca.org with the subject "For the blog," and don't forget to include a related picture and where you are writing from.