"All of them were filled with the Holy Spirit" (Acts 2:4).

"What's gotten into you?" It is a question I have heard asked by the frustrated parent to the child who misbehaves, or to the addict who shoots up once more, or the spouse who sails through life on their bottom lip. It is often said as a negative but, as Pentecost people, can we turn it into a positive?

For that is exactly what we can ask of that first Pentecost congregation 50 days after Jesus' resurrection. These post-Easter people, for days, even weeks, were hidden by fear for their lives, but now they are out and about acting in strange and astonishing ways.

They no longer live in secret. In fact, they were calling attention to themselves by their behavior. What had gotten into them? "All of them were filled with the Holy Spirit" (Acts 2:4).

But do we live lives that breathe God's Spirit-filled breath by the words we use? Do we blow the world over with God's Pentecost air by our actions? What's gotten into us? Is that a question that friends, family, strangers can ask of you in a positive light?

What's gotten into you? The Holy Spirit has gotten into you. Filled you from head to toe and within every cell through the waters of Holy Baptism, where God says, "You are my child. I am into you and will never leave you nor forsake you."

Living a Pentecost life means living a life that blows with boldness, speaks up and out against oppression and persecution. Living a Pentecost life means knowing that we don't know what will happen tomorrow, but we are certain of who holds the future in the palm of his hands. Living a Pentecost life is seeing the body of Christ for what it was at that first Pentecost: a multiracial, multilingual and multicultural people.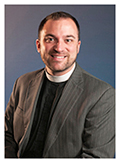 What's gotten into you? The Holy Spirit, that's what! Take a deep breath, feel that Pentecost air flowing in and out. This Spirit is what empowers us to be Pentecost people who live lives of action, justice and boldness.
Come Holy Spirit! Come!
Peace in Christ,
The Rev. Kevin L. Strickland
Assistant to the Presiding Bishop, Executive for Worship
---
Recently featured on the ELCA Worship Blog:
Mothering God: A Reflection on Mother's Day in Worship (May 1)
Persistence, Presence and Proclamation (April 23)
Grafted to The Root: The Gift of ALCM for Music Ministry (April 8)
---
What's happening in your worship life?
Let us know! We love to share stories and resources from across the ELCA that show the wonderful diversity, creativity and depth of worship in our church. If your context has a story, practice or resource to share, send it to worship@elca.org. Please aim for around 300 words and feel free to include pictures and links. We enjoy hearing from you!
Share your event
Are you planning a worship event in your congregation or synod?
Share it with us for this newsletter! Due to publication schedule, items should be submitted a minimum of 10-12 weeks before the event.
---

Hearts • Hands • Voices
Valparaiso University, Valparaiso, Ind.
July 23-26
In two months, church musicians from around the country will gather on the campus of Valparaiso University for a time of building up the various practical skills related to leading music in worship. It is not too late to join colleagues from Monday, July 23, to Thursday, July 26. A faculty has been engagedto help facilitate group learning sessions covering various topics related to music ministry. This joint venture of the ELCA, Association of Lutheran Church Musicians (ALCM) and Lutheran Summer Music will cover many skillsets including conducting, choral leadership, keyboard leadership, handbells/handchimes, worship band leadership, children's leadership, incorporating various musical styles, composition/arranging for worship, integrating instruments, worship planning, understanding and using core worship resources and much more. Registration includes several meals, and affordable, on-campus, air-conditioned housing is available. Register at ALCM.org.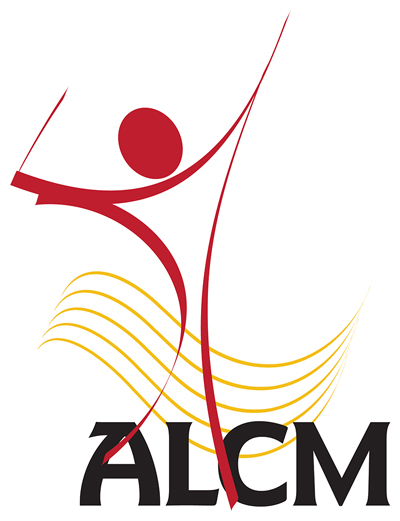 Several other Hearts • Hands • Voices events are occurring around the church in 2018 sponsored by ALCM. These workshops are for musicians, as well as pastors and other worship leaders, who serve in congregations of all sizes and contexts, each with their own challenges and opportunities. Several events occur in June:
June 2 – Morton, Ill.
June 2 – Richmond, Va.
June 9 – Newark, Del., and Carmel, Ind.
June 16 – Lorain, Ohio, and Allentown, Pa.
June 23 – Fremont, Neb., and Dubuque, Iowa
June 24 – Minot, N.D.
June 29-30 – Columbus, Ohio
June 30 – Hibbing, Minn.
A full list of events for the remainder of 2018 around the country is on the ALCM website.
---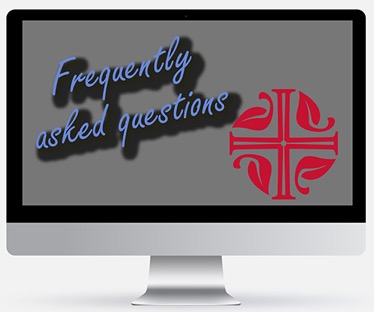 The Worship staff regularly receives similar inquiries on worship-related topics from across the church via email and phone.
The great 50 days of Easter culminates on the Festival of Pentecost, a day in which many young people make public affirmation of their baptism into Christ. How can our worship continually bring us back to the font? In the Worship FAQ, see "What are the practices for remembering and affirming baptism?".
The answers provided in the ELCA Worship FAQ are not the final word. They are useful guides that may be considered in respect to local context with pastoral sensitivity. Remember that these guides can reproduced for a worship committee or congregational use, provided the web address is cited on the copies.
If you would like additional information or do not find the question that you are seeking an answer to, we invite you to contact the Worship staff at worship@elca.org.
---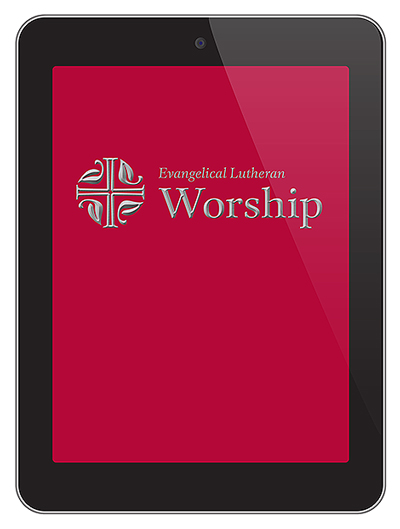 Evangelical Lutheran Worship: Pew Edition as an eBook
Evangelical Lutheran Worship: Pew Edition is now available as an eBook! This eBook contains the exact text, pagination and design from the pew edition formatted for iBooks on Apple devices.
A rich and vibrant resource for worship at home and throughout your journey of faith, this ebook makes Evangelical Lutheran Worship even more accessible for daily use in the home, sacristy and congregation.
Download your copy today at augsburgfortress.org.
---

Register now for Augsburg Music Clinics!
Augsburg Fortress looks forward to seeing you at one of our six FREE Summer Music Clinics! Read through new seasonal music, attend workshops led by clinicians Wayne L. Wold and Zebulon Highben, participate in a hymn festival, attend handbell workshops and more. Workshops include: 500 Years of Singing-Exploring the Lutheran and Reformed Choral Traditions, Treasures From the File Cabinet, and Priceless Treasures: Hymns and Songs in Parish Life.
Go to augsburgfortress.org/music-events or the Augsburg Fortress Facebook page to register!
July 20-21: Columbia, S.C.
July 23-24: Twin Cities, Minn.
July 27-28: Seattle, Wash.
July 30-31: Chicago, Ill.
Aug. 2-3: Philadelphia, Pa.
Aug. 6-7: Columbus, Ohio
---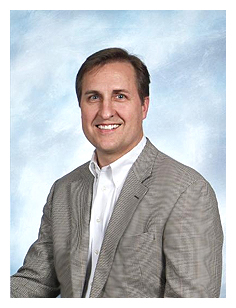 "Recruiting Volunteers to Your Music Ministry"
Association to Lutheran Church Musicians Webinar
June 7
The Association of Lutheran Church Musicians (ALCM) has scheduled the next event in its series of webinars.
On Thursday, June 7, Mark Glaeser will present "Recruiting Volunteers to Your Music Ministry." The webinar will be livestreamed at 2 p.m. Eastern / 1 p.m. Central.
This and other ALCM recorded webinars are available to be viewed within 24 hours of the livestream event.
---
Music that Makes Community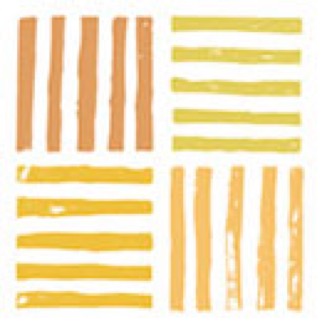 Music that Makes Community grew out of the liturgical work being done at St. Gregory of Nyssa Episcopal Church, founded by the Rev. Donald Schell and the Rev. Rick Fabian in San Francisco. During the summer of 2005, they realized a desire to create music for worship that would leave congregants free to move around, use their hands, and be fully present to one another in worship. They started collecting and composing music and working on ways to use it in worship.
Events held throughout the U.S. and Canada bring musicians and worship leaders together to help people connect and learn through singing by developing and teaching a practice of paperless song leading grounded in a theology of welcome and generosity for the benefit of musicians, clergy, congregants, students and lay leaders who want to use the practice to enrich and enliven their worship and community life. Go to the events calendar for other local offerings throughout the country.
Upcoming events:
June 2: Half-day workshop at St. Paul Lutheran Church, Jersey City, N.J.
June 15-16: Community SING and Wigle Whiskey Barrelhouse and Whiskey Garden and one-day workshop at The Episcopal Church of the Redeemer, Pittsburgh, Pa.
July 14: One-day workshop at Eden Theological Seminary, St. Louis, Mo.
---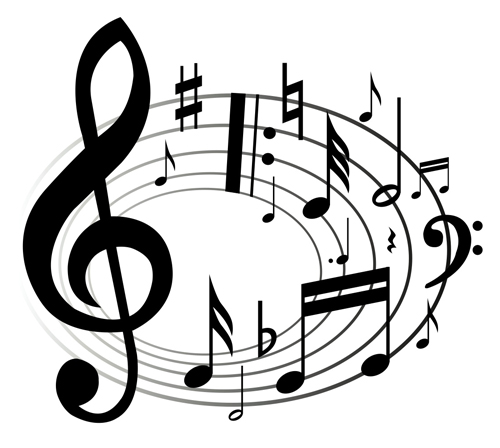 Fourth Annual Polka Worship
Celebration Lutheran Church, Chardon, Ohio
July 15

Psalm 150:4 says "Praise him with the timbrel and dance; praise him with stringed instruments and pipe." The Chardon Polka Band visits congregations with an accordion, drums, banjo and saxophone to bring their own brand of "polka praise."
Come join the Chardon Polka Band as it leads an "Old Time Tent Revival" polka-style worship service at Celebration Lutheran Church, 10621 Auburn Road, Chardon, Ohio, on Sunday, July 15, at 9:30 a.m.
In their years of performing, the members of the Chardon Polka Band have visited several congregations of various denominations. They've taken part in worship services, special events, praise nights and polka masses. Congregations welcome and enjoy the band's unique take on gospel tunes, its polka hymns and even the occasional cantor. Crowd favorites include the interaction of learning to sing "Amazing Grace" to the tune of "The Happy Wanderer" and hearing "How Great Thou Art" with an oompah beat. The Chardon Polka Band navigates this variety of music with both joy and reverence, often stopping to share a personal story or Bible verse. Indeed, the group has been called upon to help with other elements of worship services besides music, stepping "behind the pulpit" to deliver sermonettes or children's sermons.
Following the worship service, the band will present a free, two-hour concert at the church from 11 a.m. to 1 p.m. A portion of the concert will be devoted to the children in the audience. Members of the congregation will provide a picnic lunch for those in attendance.
For additional information, please contact Paul Gochnour at 440-897-0121.
---
Connecting with ELCA Worship

The ELCA Worship Blog and Facebook page are your places to connect with what's going on in worship across our church.
The Facebook page shares prayers, events, updates, blog posts and "liturgy grams," a short, weekly infographic on the definitions and practices of things we see in worship every week.
The Worship Blog is regularly updated with more in-depth information and stories. Follow it for updates from the worship office and pictures, resources, reflections and happenings from pastors, musicians and worshipers across the church.
We'd love to include your voice too! If you have a story of how worship is meaningful and engaging in your context or want to share something your congregation has particularly loved, send it to worship@elca.org with the subject "For the blog," and don't forget to include a related picture and where you are writing from.