Living Lutheran: 'Mercy and addiction'

Overdose deaths from prescription opioids were five times higher in 2016 than 1999, and sales have quadrupled, according to the Centers for Disease Control and Prevention. People of faith and houses of worship are not immune to this crisis. In Living Lutheran's May cover story, Wendy Healy writes about how the opioid epidemic has affected Lutherans and what ELCA congregations and Lutheran social service agencies are doing to provide hope and healing.

Read the full article and use the related study guide in your congregation.
First female African-descent synod bishops elected

On May 5, Patricia Davenport (shown top left) was elected to serve a six-year term as bishop of the Southeastern Pennsylvania Synod. She is the first African-descent woman to be elected as a synod bishop.

Less than 24 hours later, the ELCA again made history by electing a second female synod bishop of African descent, Viviane Thomas-Breitfeld (shown bottom right). She was elected to serve a six-year term as bishop of the South-Central Synod of Wisconsin.
New video! ELCA World Hunger's Global Farm Challenge

ELCA World Hunger's Global Farm Challenge is a yearlong, youth-driven fundraising challenge to support the agriculture-related programs of our church's ministry to end hunger and poverty. Many youth groups will raise funds for the challenge in advance of the 2018 ELCA Youth Gathering in June, where youth will have a chance to participate in an unforgettable experience designed to immerse them in what it's like to be a smallholder farmer around the world.

A new video is available that provides education about the Global Farm Challenge and the programs that it supports. Share it with your congregation today! Watch video.
WATCH THIS
We are Lutheran
Presiding Bishop Elizabeth Eaton talks about what it means to be a Lutheran in this
2018 Synod Assembly video.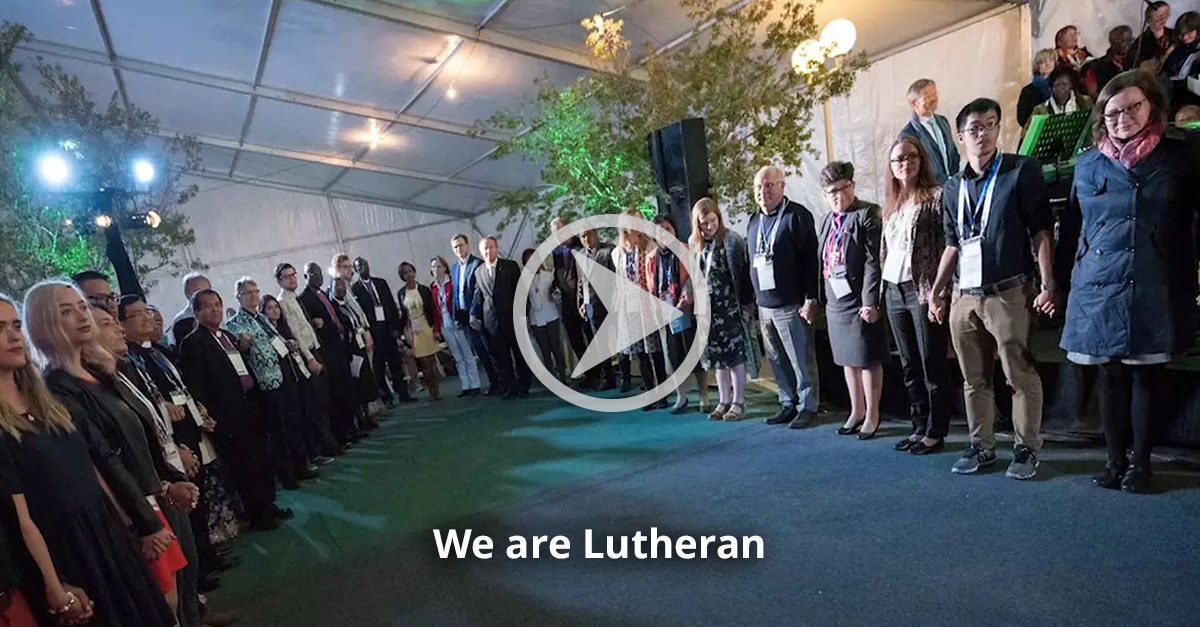 MARK YOUR CALENDAR

ELCA YOUTH GATHERING
Houston


DRAFT INTER-RELIGIOUS POLICY STATEMENT
Feedback due


"GOD'S WORK. OUR HANDS." SUNDAY
Day of service


DRAFT WOMEN AND JUSTICE SOCIAL STATEMENT
Feedback due.

FEATURED RESOURCES
Four Emphases Bible Study


Are you familiar with Presiding Bishop Elizabeth Eaton's four emphases that define us as a church? Explore them in this new Bible study.

ELCA World Hunger: Community Gardens How-To Guide Tips, suggestions and stories from ELCA congregations whose community gardens are vital parts of their ministry.
Good Gifts Father's Day Cards
FREE cards delivered directly to Dad with a gift of livestock to help a family fight hunger. Give in honor of Father's Day, and we'll send a card, or you can print your own.

BULLETIN BLURBS
These snippets are available for you to copy and paste into your bulletins.
Refer a student to Lutheran Campus Ministry
Do you know a graduating high school senior or current college student? Help them find a church home at college with Lutheran Campus Ministry. Through this online form, you can refer a student to a community of faith on campus: lumin-networkreferral.org/student-referrals/.
Bishop Eaton's Leadership Initiative resources
The Leadership Initiative encourages people to seek out and inspire gifted people in their congregations and communities to consider a call to ministry. You can learn more about the Leadership Initiative and find prayers, cards and other tools to support it in your congregation at ELCA.org/leaders.
Living Lutheran e-digest
Subscribe to Living Lutheran's free e-digest and choose what types of stories you want to see delivered right to your inbox. Get personalized stories delivered weekly, biweekly or monthly. Subscribe today at livinglutheran.org/subscribe.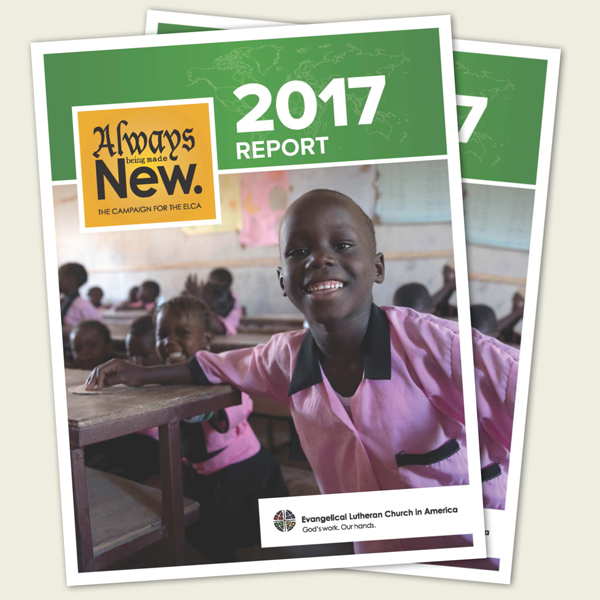 2017 Campaign Report – out now!
Thanks to all the congregations, synods and individuals who have participated in The Campaign for the ELCA. It is our privilege to be working beside you on behalf of this church to make all things new through Christ. In the 2017 Campaign Report, you will see how your generosity is making a difference in the lives of our neighbors around the world. Please share this important work and progress with your synod and congregation.
We have accomplished so much, yet there is more work to be done. We need your help in driving toward the successful completion of this effort as we continue to grow and transform these ministries for years to come. To find out how you can get involved in the campaign's final year, please visit ELCA.org/campaign. Thank you for your continued support!