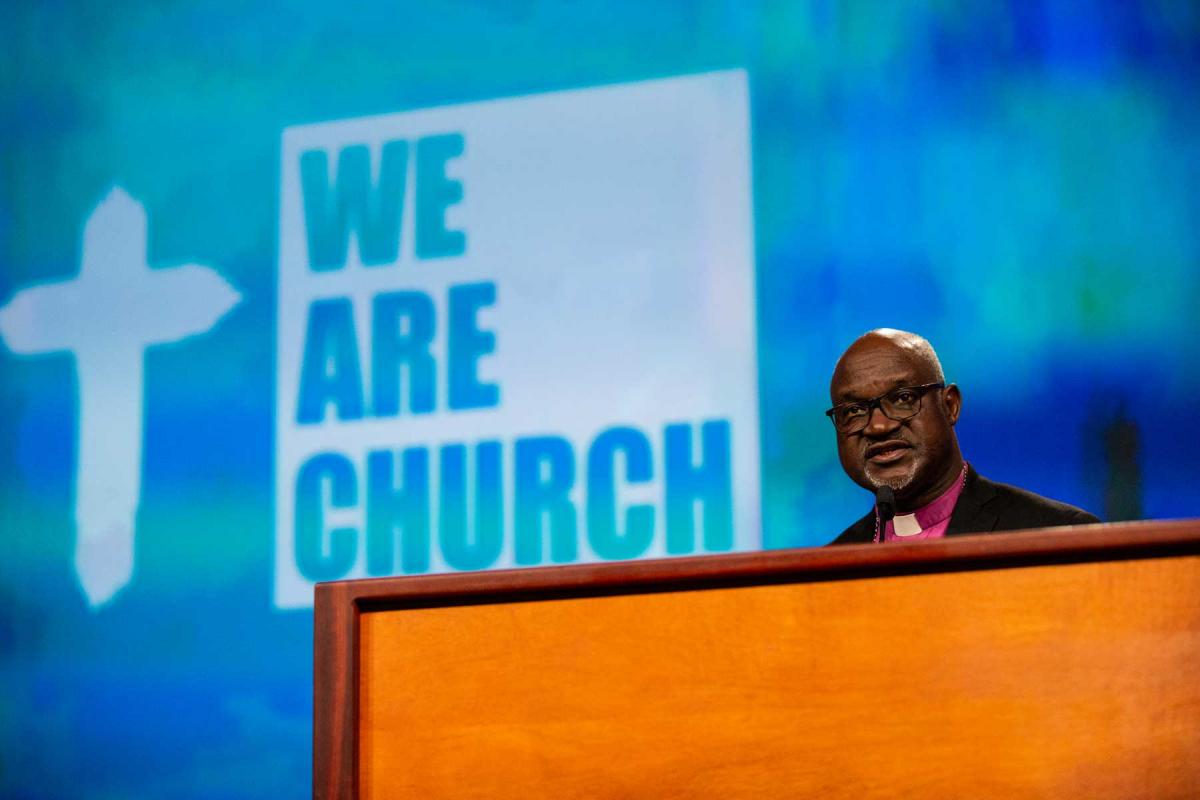 "This is not a time to be derailed from the message that is entrusted to us, but to draw from it and to witness to it in the midst of our broken world."
— Panti Filibus Musa
At the ELCA Churchwide Assembly this month, Panti Filibus Musa — archbishop of the Lutheran Church of Christ in Nigeria and president of the Lutheran World Federation — issued a call for the ELCA to embrace its local and global witness, especially in times of fragmentation. "Continue singing the powerful melody of God's liberating presence in this world, which sets us free to serve, love, reconcile and do so much more," Musa said.Read about his address here.
Most notably, the ELCA declared itself a sanctuary denomination at Churchwide Assembly — the first North American denomination to do so. The Lutheran World Federation welcomed the decision, calling it a "visionary and prophetic stand." Learn more about what becoming a sanctuary denomination means atELCA.org/sanctuarychurch.
 YAGM volunteer reflects on silence and storytelling
As her year of service in Jerusalem and the West Bank neared an end, YAGM volunteer Hannah J. shared her reflections on the Churches for Middle East Peace blog. In "Do Not Be Silent," Hannah wrestles with the call to speak out about injustice. "I am still learning how to hold these stories sacred, how to sit shoulder to shoulder with my companions," she wrote. Just as Hannah and her cohort have returned, the new YAGM cohort for 2019-2020 has headed out! YAGM volunteers attended orientation this month and have been arriving in their country programs.
 LWF shares stories of women humanitarians
For World Humanitarian Day on Aug. 19, the Lutheran World Federation shared stories of women humanitarians around the world, such as Amrita Rai, who volunteers for the Sanischare refugee camp in Nepal. At the age of 9, Rai came to Nepal after fleeing her home in Bhutan — an experience that has inspired her humanitarian work. "Seeing humans help humans makes my heart happy and gives me hope for humanity," Rai said. "I know what difficulty is, as I have faced it myself, and I know how much even a tiny ounce of help can do." Read her story.
 Sensing a call to global service?
The ELCA has multiple positions open around the world! Current openings include YAGM country coordinator for Nepal, English-language educators, seminary professors, medical professionals and more. Explore and apply here.
 International Women Leaders Endowment Fund
An endowment fund was recently launched to ensure the sustainability of our new and important ministry: International Women Leaders. We are excited about this new opportunity to invest in women's education alongside our global companions. To donate to the fund, visit the Global Mission donation page and select "International Women Leaders Endowment Fund" from the drop-down menu.
 Spread the word
Know someone interested in receiving these "Global Links" updates? Share this subscription link with family and friends or post it on your congregation's website. Download the latest edition of "Global Links" here. Help share the story of our global church!
Give today!
Make an online gift to God's work around the world today — thank you!