Give something unexpected this Christmas
In Christ, we receive the gift of God's love. Let us share God's love with others.

ELCA Good Gifts are a fun, meaningful way to honor friends and family with gifts that go on to make a difference in the world. Turn your donation into a Christmas gift for someone special, and we'll send a free card to share the news.
Christmas cards now available!
Give online and you can personalize free, printed cards to be sent directly to your loved ones. Find several special-edition Christmas cards for select gifts now.
Your gifts are making a difference
Fred is a father of six children living in Uganda. After his wife died, Fred struggled to meet his family's needs, and his family was living on just one meal a day.

With five new goats and agricultural training, Fred has both food for his family and income to enroll his children in school.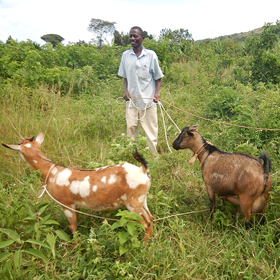 Photo courtesy of RACOBAO, which implements this project with support from ELCA World Hunger