The invitation to Lent is an invitation to journey with Christ to the cross, to remember our dependence on God and to gaze with faith toward the resurrection to come. For many Lutherans, the season is marked by four specific spiritual practices:

I invite you, therefore, to the discipline of Lent — self-examination and repentance, prayer and fasting, sacrificial giving and works of love — strengthened by the gifts of word and sacrament. Let us continue our journey through these 40 days to the great Three Days of Jesus' death and resurrection. (Evangelical Lutheran Worship, Leaders Desk Edition)
Throughout Lent, we will explore the connections between our faith and our shared ministry to end hunger and poverty. We'll send you excerpts of a weekly study designed to invite you into these Lenten practices. To prepare, you can download the resources below.

Together, we'll experience how the grace of Christ moves us to engage in transformative works of love around the world through ELCA World Hunger as God calls us into the ministry of hope, liberation, and restoration.
We also invite you to consider committing to a charitable goal for Lent and setting aside a portion each day until Palm Sunday.
Your gifts at work
In the remote mountain community of Llano de las Piedras in Guerrero, Mexico, poverty and lack of opportunity can make nutritious food hard to come by. Marcelina and her daughters, Imelda, 12, and Esmeralda, 10, were among the families who had a tough time affording enough healthy food. With little income and few options for growing crops, they faced limited access to protein. Now things have changed for this family, thanks in part to your gifts to ELCA World Hunger.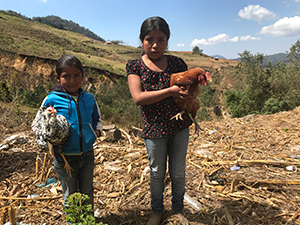 Imelda and Esmeralda from Llano de las Piedras.