Friends in Christ,

I am the scorn of my enemies, a disgrace to my neighbors, a dismay to my acquaintances;
when they see me in the street they avoid me. Like the dead I am forgotten, out of mind;
I am as useless as a broken pot (Psalm 31:11-12).

"When the Japanese mend broken objects, they aggrandize the damage by filling the cracks with gold. They believe that when something's suffered damage and has a history it becomes more beautiful." (Barbara Bloom) This understanding of "brokenness" is so countercultural to the way many of us live and think.

We see brokenness and broken things as objects to be disregarded. But God, who calls us to walk this week toward a cross, reminds us that even the brokenness of his own son's body on a cross and his death is not useless.

So, for us, we who are broken pots, we who may feel forgotten, we who may feel judged by the world for our brokenness … God takes our broken-potted selves and reminds us that through his love, we are loved. Loved in life and in death. Loved in brokenness and in newness. Loved to let others, even our enemies, know that Christ comes among the ashes and wipes our tears away.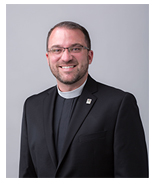 As you continue in this Lenten journey, know that we have a God that says, in the midst of our brokenness, we are made whole. It's amazing how God can take the brokenness of a body on the cross and transform it into the love that saved the whole world. Thanks be to God!
Peace in Christ,
The Rev. Kevin L. Strickland
Assistant to the Presiding Bishop
Executive for Worship
---
From the ELCA Worship Blog:
---
We enjoy hearing from you! It is a gift for those of us here at Worship to hear about the breadth and depth of worship practices around this church. If your particular context has a story, practice or resource to share with our staff, please send it to worship@elca.org.
Although we cannot share everything we receive, we may contact you for further information.
---
Frequently asked questions
The Worship staff regularly receives similar inquiries from across the church on the same worship-related topics.
As we move through Lent, we consider the following questions:
Why don't we use alleluias during Lent?
Do Christians hold Seder meals?
Answers provided in the ELCA Worship FAQ are not the final word. They are useful guides that may be considered with pastoral sensitivity to their local context. Remember that these guides can be reproduced for a worship committee or congregation, provided that the web address is cited on the copies.
If you would like additional information or do not find the question that you are seeking an answer to, we invite you to contact the Worship staff at worship@elca.org.
---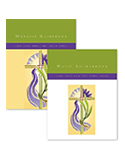 Music Sourcebook and Worship Guidebook for Lent and the Three Days Set
This set includes the "Worship Guidebook for Lent and the Three Days," a treasure trove of insights, images and practical tips to help deepen your congregation's worship life during the days from Ash Wednesday to Easter. Also included is the "Music Sourcebook," an essential companion resource to the worship guidebook that greatly expands the repertoire of resources for the song of the assembly and its leaders during the days from Ash Wednesday to Easter.Order today!

Music Sourcebook for Life Passages
Once the life of faith is begun through the waters of baptism, no subsequent passage is made alone. The "Music Sourcebook for Life Passages" assists church musicians and leaders in planning for services of life passage including marriage, funerals, and healing services. This resource contains music originating in different cultures and varying accompaniment styles. This volume includes reproducible pages, an appendix of additional resources, and a CD-ROM of files to assist in the creation of service folders.
View a sample here. Order today!
---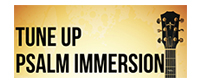 Tune Up: Psalm Immersion
Faith Lutheran Church, Bellaire, Texas
Sat., March 23, 9 a.m. – 2 p.m.
Join Richard Bruxvoort Colligan, a psalmist making adventurous music for the ever-evolving church, as he leads this event singing songs, teaching the psalms and "telling dumb jokes."
Since 2004, his central vocation has been immersion in the psalms, studying, teaching, singing and creating new congregational songs for all 150. He teaches psalms at several seminaries and in workshops at events and local churches, and he is the weekly psalm correspondent for the Pulpit Fiction podcast (free listening at PsalmImmersion.com.)
More information and registration are online at TuneUpGathering.org.
---

Table of Thanksgiving: How Eucharist Forms Us
Valparaiso, Ind., April 29-May 1 

"For the Sacrament of Holy Communion has no blessing and significance unless love
grows daily and so changes a person that they are made one with all others."
Martin Luther, 1519
The 71st Institute of Liturgical Studies will be held April 29-May 1 on the campus of Valparaiso University. Gathering under the theme "Table of Thanksgiving: How Eucharist Forms Us," participants will hear plenary speakers, attend a variety of workshops and worship. For more information about the institute, visit valpo.edu/ils.
Register now!
---
"Leading the Church's Song: Doing Common Things Uncommonly Well"
ALCM 2019 Biennial Conference, Portland, Ore.
June 24-27
The Association of Lutheran Church Musicians invites all worship leaders to the 2019 national biennial worship conference.
Consider joining 220 of your colleagues who have already registered. Registration is open. Advance single-day registration is also available.
Begin your journey by visiting this link.
---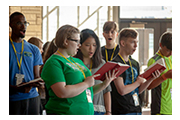 Lutheran Summer Music 2019
Valparaiso, Ind., June 23-July 21 
Enrollment is in full swing for Lutheran Summer Music (LSM) 2019! High school musicians from all over the country are applying and making plans to attend LSM this summer. A half session is available June 23-July 7.
This is the ideal way for young Lutheran musicians to spend their summer. And, these young people will come back as better musicians and confident leaders, having taken ownership of their faith. Most students find out about LSM through friends, family and caring adults at their church. Apply now or nominate a student for LSM.
---
Connecting with ELCA Worship

The ELCA Worship Blog and Facebook page are your places to connect with what's going on in worship across our church.
The Facebook page shares prayers, events, updates, blog posts and "liturgy grams," short infographics on the definitions and practices of things we see in worship every week.
The Worship Blog is regularly updated with more in-depth information and stories. Follow it for updates from the worship office and pictures, resources, reflections and happenings from pastors, musicians and worshipers across the church.
We'd love to include your voice too! If you have a story of how worship is meaningful and engaging in your context or want to share something your congregation has particularly loved, send it to worship@elca.org with the subject "For the blog," and don't forget to include a related picture and where you are writing from.