ELCA forms agreement with Vanco Payment Solutions

ELCA has forged an agreement with Vanco Payment Solutions that will give congregations access to discount rates for an assortment of eGiving tools. With GivePlus, powered by Vanco, congregations can start using such donation technologies as text and app giving, online giving and portable credit-card readers. Learn more about the ELCA-Vanco agreement.
Lutheran Disaster Response providing tornado relief

On March 3, powerful tornadoes hit Alabama, Georgia and Florida, causing widespread destruction. Lutheran Disaster Response is working with people in these states, including congregations in the Southeastern Synod, to respond with immediate relief. Gifts to Lutheran Disaster Response designated for "U.S. tornadoes" will be used to help those affected by tornadoes until the response is complete. Together, we can help provide immediate and long-lasting support.
Living Lutheran: "Pray without ceasing"

The Living Lutheran cover story for March focuses on the Lutheran approach to prayer. For Lutherans, prayer isn't only an individual practice but also one shared in community through worship. And Lutherans understand the importance of prayer as a way of participating in the work God is already doing in the world. Read the article and participate in a discussion using the corresponding study guide.
WATCH THIS
Voices of Dignity
Deacon Adrainne Gray, an ELCA missionary in the Holy Land, finds inspiration in the hope that young Palestinians draw from leaders of the civil rights movement in the U.S.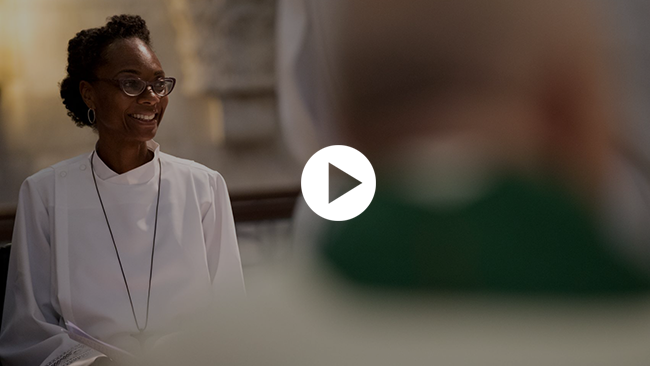 MARK YOUR CALENDAR
`

DOMESTIC HUNGER GRANT APPLICATIONS
ELCA GrantMaker registration opens


CHURCHWIDE ASSEMBLY
Milwaukee, Wis.

FEATURED RESOURCES
Why an estate plan?

Regardless of your age or financial situation, the ELCA Foundation can help you review your estate plan.

Holy Week and Easter invitations

Welcome your neighbors with customizable graphics, posters, door hangers and more, available in English and Spanish.DOWNLOAD
"Gender-based Violence" study guides

New study guides for the ELCA's social message "Gender-based Violence" are available for leaders and participants. Download both for free!
BULLETIN BLURBS
These snippets are available for you to copy and paste into your bulletins.
Three Sides Podcast: African-Descent Lutheran History
By most accounts, the black Lutheran church began as early as 1620. In the latest episode of "Three Sides," host Shanna Crawford speaks with Lutheran historian Dr. Richard Stewart, Pastor Lucille Mills and Pastor Albert Starr about the early years of African-descent Lutherans, what's happening in the church today and what the future holds. Listen now at LivingLutheran.org/podcast.
ELCA World Hunger's 40 Days of Giving
Continue your Lenten journey with resources from ELCA World Hunger's 40 Days of Giving. Use a Lenten calendar, study guide and email series to continue engaging in the Lenten disciplines of self-examination, repentance, prayer and fasting, and sacrificial giving. Find the resources at elca.org/40days.

Five years ago, we launched Always Being Made New: The Campaign for the ELCA with the goal of significantly increasing support for existing and new ministries. Through this first-ever effort, we made a commitment to invest in the future of this church, deepen our relationships and expand ministries that serve our neighbors and communities here at home and around the globe.
Since then, with the support of many ELCA members, congregations and synods, we have accomplished a great deal. As of Jan. 31, our collective impact is $226 million, including $181 million in cash and multiyear commitments and $45 million in planned gifts.
However, more work remains to be done here and around the world. Help us spread the word with our new campaign video and other resources. Please join us as we rally and drive toward the successful completion of this effort on June 30!