ELCA launches collaboration with Blessed Tomorrow
In line with its commitment to pursuing wholeness for creation, the ELCA has announced a collaboration with ecoAmerica and its Blessed Tomorrow program, which helps faith-based organizations elevate their leadership on the moral, religious and justice issues surrounding climate change. The collaboration underscores this church's commitment to raising awareness of climate change and taking action to mitigate its impact. In conjunction with this announcement, the ELCA has released a video that explains the Lutheran grounding for and prioritization of creation care, and encourages ongoing dialogue and activity.
Read more about the collaboration.
Living Lutheran: 'Led by the Spirit'
As the church works to adapt to its ever-changing environment, the ELCA is focusing on congregational vitality. The ELCA Conference of Bishops described vitality by saying that it's found in communities of Jesus that nurture life-changing relationships with God, one another and the world. As the ELCA moves beyond the two traditional measurements of congregational health—number of people and dollars—congregations around the country are embracing the ways the Spirit sustains them. Read about some of these congregations and strategies to bring congregational vitality across the ELCA in the February cover story of Living Lutheran. Discuss with a corresponding study guide.
Living Lutheran: 'What is God up to?'
In this month's column for Living Lutheran, Presiding Bishop Elizabeth Eaton addresses some of the challenges facing the church today. "I think we are asking the wrong questions," she wrote. "When we stop asking what we can do to fix the church and start asking what God is up to, we open ourselves up to the life-giving promise of God's future."
Read the complete column in English or Spanish. You can read a column from the presiding bishop every month in Living Lutheran.
WATCH THIS
Nurturing the song of the church
ELCA Deacon Ryan Hostler teaches others to make music and worship God.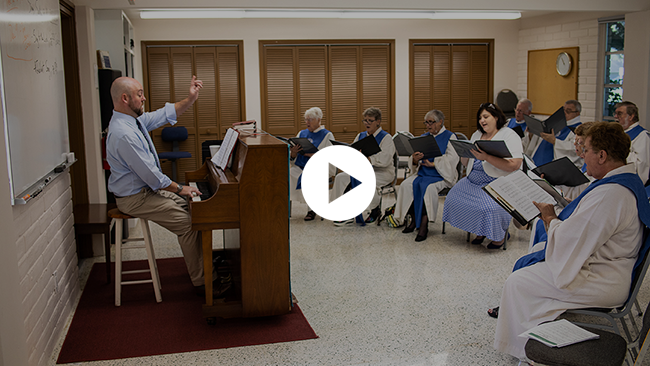 MARK YOUR CALENDAR
`

BOLD WOMEN'S DAY 
Celebrate in your congregation


"GOD'S WORK. OUR HANDS." HYMN CONTEST
Entries due


INTERNATIONAL WOMEN'S DAY
Celebrate in your congregation


STEWARDCAST WEBINAR
No registration required

FEATURED RESOURCES
Lament and Hope

A pan-African devotional commemorating the forced trans-Atlantic voyage of enslaved African people to Jamestown, Va., 400 years ago.

Lenten Study Guide

Reflect on Lenten practices and learn how your gifts to ELCA World Hunger are at work with this weekly study guide.

Holy Week and Easter invitations

Welcome your neighbors with customizable graphics, posters, door hangers and more, available in English and Spanish.
BULLETIN BLURBS
These snippets are available for you to copy and paste into your bulletins.
ELCA stewardCast webinar
Are you looking for fresh ideas about stewardship in your congregation or household? Tune in to the ELCA stewardCast on Saturday, March 9, from 10:30 a.m. to 12 p.m. CST. Topics include stewardship for small congregations, teaching generosity in the home and using mobile technology for stewardship. Participation in this event requires no registration. On the morning of March 9, simply go to ELCA.org/stewardship and click on the field marked "stewardCast2019" to watch.
Last call for "God's work. Our hands." hymn contest entries
The ELCA is offering people from across the church an opportunity to submit their original composition to be considered as a hymn for "God's work. Our hands." Sunday. Our dedicated day of service is an opportunity to celebrate who we are as the ELCA—one church, freed in Christ to love and serve our neighbor. This new hymn will become a year-round worship resource and should reflect on service as an opportunity to explore one of our most basic convictions: All of life in Jesus Christ – every act of service, in every daily calling, in every corner of life is in response to our gratitude for God's abundant grace. Entries will be screened by a selection team and one hymn may be selected. The winning entrant will receive a $500 honorarium. Submissions should be emailed or postmarked on or before March 1. Learn more details and contest rules.
"I'm a Lutheran" nominations
Do you know an ELCA member who has a unique story to tell? Living Lutheran is looking for nominations for its monthly "I'm a Lutheran" feature. Past features have included people with interesting vocations, impressive accomplishments or exciting experiences. We're looking for people who are passionately living and showing their faith in their everyday life and are comfortable talking about it. Send the name and contact information for your nominee, as well as a little bit about why you think they'd be a great candidate, to megan.brandsrud@elca.org.
We are in the home stretch!
As of Dec. 31, the total impact of The Campaign for the ELCA is $220 million for campaign priorities ($175 million in cash and commitments and another $45 million in designated planned gifts). And we've got five more months to go. Lots of opportunities remain to meet and exceed all we set out to accomplish together five years ago.
Want to help us finish strong? We have some exciting initiatives over the next few months.
This Lent, you're invited to study, reflect and give during ELCA World Hunger's 40 Days of Giving. Discover new ways to engage in the long-standing traditions and practices of Lent this year with our new resources, including a downloadable calendar, study guide, coin jar wrappers, weekly email series and more.
Friday, March 8, we will commemorate International Women's Day with a call to support the women leaders of the global Lutheran church through International Women Leaders. Please watch for more information coming soon.
We thank those who have supported and continue to support our work with congregations, hunger, and poverty, global church and leadership. Together, we can do more!