Welcome to the Northern Illinois Synod!
The Northern Illinois Synod of the Evangelical Lutheran Church in America (ELCA) is a gathering of people created by God in Christ, empowered by the Holy Spirit, called and sent to bear witness to God's creative, redeeming, and sanctifying activity in the world.
Our mission is Walking Together - loving Christ, loving all, for the sake of the world.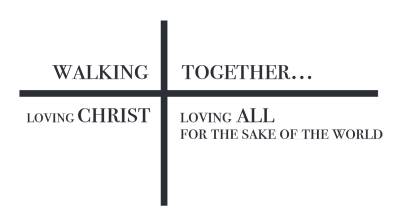 The synod is comprised of over 140 individual congregations with a total combined membership of more than 100,000 people. The synod covers the following counties in Northern Illinois: Boone, Bureau, Carroll, DeKalb, Grundy, Henderson, Henry, Jo Daviess, Kendall, Knox, LaSalle, Lee McHenry, Mercer, Ogle, Putnam, Rock Island, Stephenson, Warren, Whiteside, Will, and Winnebago.
As part of the ELCA, we are:
Members of the fourth-largest Protestant denomination in the United States
Among almost five million people who belong to almost 10,000 congregations (2012) in the United States and the Caribbean
Part of a church body with more than 270 agencies and institutions that are the second largest provider of human services of any non-governmental social services agency
Part of a church body that maintains 27 church-related colleges and universities, enrolling more than 53,000 students each year
Part of a church that provides eight seminaries across the country for the training of pastors and other church workers
Helping to support 400 missionaries in 45 countries around the world
Reaching thousands of men, women, and children by providing more than $12 million annually in hunger funds, both internationally and at home.